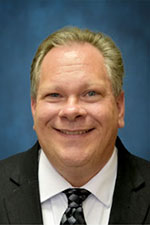 Jim Deel
Executive Director
Jim joins us from a prominent senior living community in North Central Ohio, where he spent the past 10 years.
Jim was born and raised in rural Ohio. He attended Otterbein University in Westerville, Ohio, where he studied business administration and management. Prior to working in senior living, Jim enjoyed a career in information and data security with one of the nation's largest financial institutions. During the early days of his career, Jim worked part-time as a certified nursing assistant, and fell in love with senior living. This exposure fueled Jim's passion for working with older adults and his desire to manage senior living communities. Jim's personal mission matches that of Laurel Crest — to provide a lifestyle that enhances the quality of life for each person.
Jim loves camping, bicycling and attending bluegrass music events. His wife, children and dogs are enjoying making the Columbia area their home.
Jim enjoys spending time with residents, staff and family members, so please feel free to come by and visit!