Senior Rehabilitation in West Columbia, SC
Get back to your best self, fast.
Back home. Back on your feet. Whatever your goals, one-on-one senior Rehabilitation Services at Laurel Crest in West Columbia, SC can help residents improve mobility or recuperate following an accident, illness or hospital stay.
With large helpings of compassion and professionalism, our team works with residents to achieve and maintain their best level of function. Like our other health services, our Rehabilitation Services are only available to current Laurel Crest residents.

Rehabilitation Services include:
Physical therapy identifies barriers to independence and provides treatments to overcome mobility problems.
Occupational therapy preserves or increases independence by enhancing daily living skills.
Speech therapy can enhance communication, cognition and swallowing.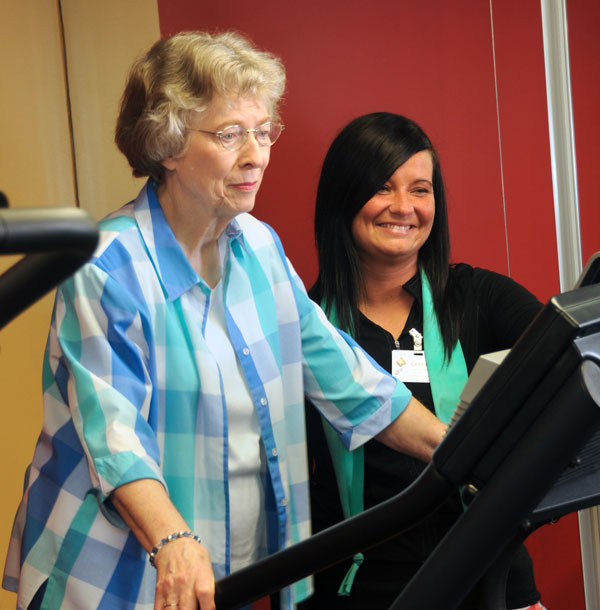 Frequently asked questions about Rehabilitation Services at Laurel Crest:
If you've experienced muscular or skeletal dysfunction, physical therapy at Laurel Crest provides customized treatments to help restore function. Depending on your particular situation, treatments might include:
Training in mobility, gait stability, posture and positioning
Exercise programs to increase muscle function, coordination and endurance
Joint and soft tissue mobilization to increase range of motion
Pain management
They're similar in that each helps restore strength and mobility. However, occupational therapy helps people adapt to their social and physical environment through education in things like dressing, memory training and coordination exercises.
Our speech and language therapists address communication problems and swallowing dysfunction. They'll design treatment plans to help with cognitive issues, language ability, provide alternate communication strategies and give appropriate diet recommendations.

Connect with us
To learn more about senior rehabilitation at Laurel Crest, please complete the form on this page.