Memory Care in West Columbia, SC
Contentment in the moment.
For residents facing the challenges of memory loss, Laurel Crest in West Columbia, SC offers the secure comfort of our Special Care wing. Dedicated to the physical and cognitive needs of these residents is a highly trained staff, whose compassion helps reduce stress and confusion, and optimizes the daily experiences of each individual.
You'll experience a staff-to-resident ratio that allows for care tailored to the individual. Our resident-centric approach means caregivers have created a culture in which each person is treated with the highest levels of kindness and dignity. Families can rest assured that our highest priority is the safety, care and comfort of their loved one.
Our simple floor plans and design reduce confusion and provide complete security around the clock.

Thoughtful amenities in our Special Care wing include:
Wide hallways
Simple floor plans to reduce confusion
Private baths
Natural lighting
Electronically monitored entrances and exits
Chaplain services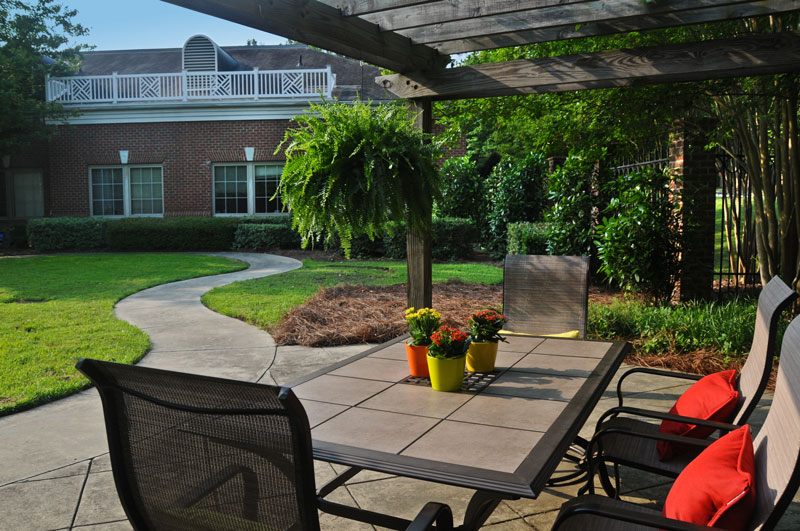 Frequently asked questions about Memory Care at Laurel Crest:
Dementia refers to the loss of cognitive functions (thinking, reasoning, the ability to remember) that are severe enough to interfere with a person's daily functioning. This group of symptoms is not a disease per se, but may accompany certain diseases or conditions. Dementia is irreversible when caused by disease or certain injuries. It may be partially or fully reversible when caused by drugs, alcohol, depression or imbalances in certain substances, such as hormones or vitamins. Alzheimer's disease is the most common form of dementia. It is a progressive, degenerative disease of the brain, characterized by loss of function and death of nerve cells in several brain areas, leading to loss of recent memories and new learning first, and eventually old memories, too.
Memory loss, whether from Alzheimer's or other forms of dementia, affects more than just one person. At Laurel Crest, we work with individuals, family members and caregivers, searching for the right balance of respect and care. Our simple floor plans and design reduces confusion and provides complete security around the clock. With special programs designed for those with memory loss, Special Care at Laurel Crest helps residents find joy and contentment in each moment.
No. Because Laurel Crest is a Life Plan Community, all health services, including Special Care/Memory Care, are provided on our campus. You'll be cared for in a familiar environment by compassionate staff members you'll probably already know. And because you're still right on campus, you'll remain within easy visiting distance of close friends and family.

Connect with us
To learn more about our Special Care services, please fill out the form on this page.